Wednesday, August 15 2018
Thousands of flip-flops wash up onto the East African coast each year creating an environmental disaster. The plastic flip-flop pieces do not just spoil the natural beauty of the beaches and oceans but marine creatures swallow and suffocate on them and they stop turtle hatchlings from reaching the sea. They are another man-made menace to the earths fragile ecosystems. Flip-flops are made from a combination of Ethylene-Vinyl Acetate and other plastics and they do not biodegrade. They do however photo-degrade, breaking up into smaller and smaller pieces to form part of the plastic soup plaguing our oceans.
Cheap flip-flop footwear is a common item found along Kenya's shores as over 3 billion people world wide can only afford that type of shoe. With a lifespan of just two years the volume of discarded footwear rapidly adds up. Because of ocean currents an estimated 90 tons of flip-flops find their way to East Africa's beaches every year. Ocean Sole is turning the waste into brightly coloured sculptures, recycling as many as 400,000 flip-flops each year.
Ocean Sole arranges for the collection of the flip-flops they are then cleaned then compressed into large solid blocks then, the artists, many of whom are former woodcarvers, carve the blocks into a variety of African and marine animals.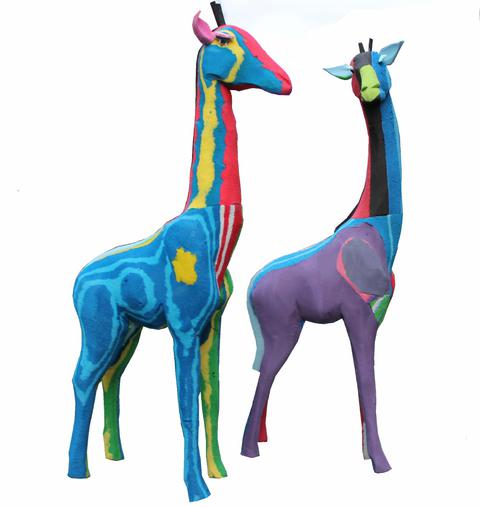 Ocean Sole's creative team of artisans are not only transforming discarded flip flops into colourful masterpieces, they are drawing attention to the importance of marine conservation and the damage plastic waste is doing to our oceans.